Tough and sturdy for high capacity workflow!
Tough and sturdy for high capacity workflow!
Universal basic machine and new application options
As one of the most important machines, wherever there is something to shred, the grinder has established itself as a nearly universal tool in the food industry.
The requirements for this type of machine have become more and more varied over the years.
Nowadays a modern grinder does not only have to grind in the traditional sense, but in particular has to cope with ever lower temperatures, while at the same time treating the product as gently as possible while preserving the raw material structure.
High performance must be provided in a short time, while ensuring all current safety requirements and hygiene standards. All this under the aspect of low operating and service costs.
We have uncompromisingly implemented these initially seemingly contradictory requirements in our established and proven grinder family.
A complete program is available to the industry for a wide range of capacity requirements.
Drives adapted to the cutting set diameter ensure efficient energy consumption and safe working.
Overload protection prevents defects on the machines, even under extreme loads. The robust construction meets the heavy duty in practice. Low-noise drives with toothed belts reduce the noise pollution and thus contribute to a pleasant working environment.
Adapted to the application, these machines can be equipped with many cutting sets and can therefore be used universally for a wide variety of products.
KS Grinders process fresh meat, frozen meat, cheese and butter – pre-broken or in whole blocks – in the temperature range down to minus 25 ° C.
Furthermore, the optimized interior geometry guarantees complete hopper emptying.
The automatic load-dependent speed control ensures smooth and safe operation and consistent product quality.
Perforated plate sizes of 250 and 280 mm diameter are standard. The special knives used work effectively and with low wear.
For highest throughput, KS offers thin-hole and ultra-fine hole plates with extremely small bore diameters down to 1.2 mm. The result is a finer standardization material that allows efficient and fast mixing with powder additions.
The Grinder is loaded sequentially with a lifting device or continuously with a conveyor belt.
Special constructions of the feeder and working screw in combination with the respective cutting sets meet the requirements of economic work with highest performance and quality.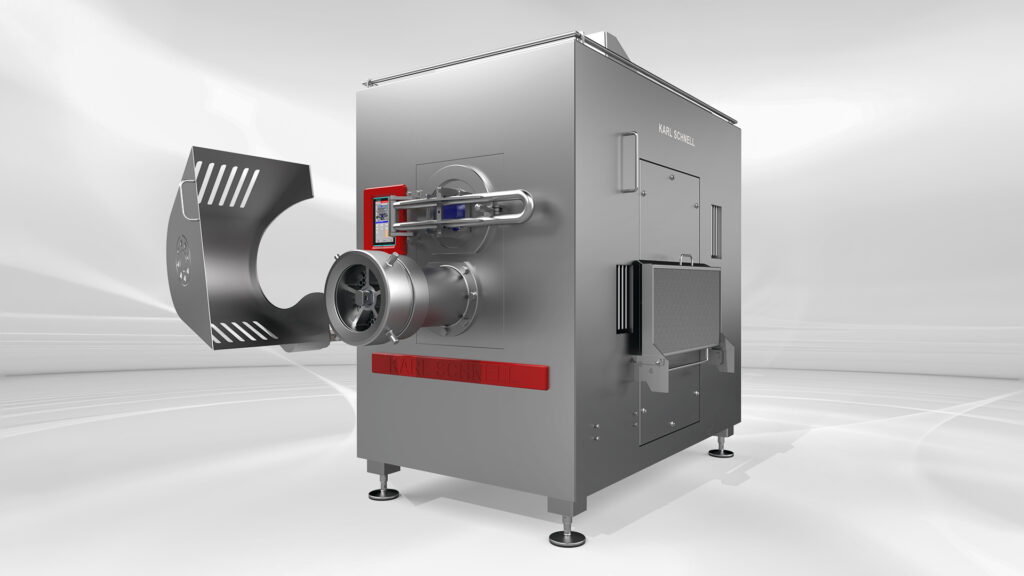 Further questions to our Grinder range?
Get in touch!